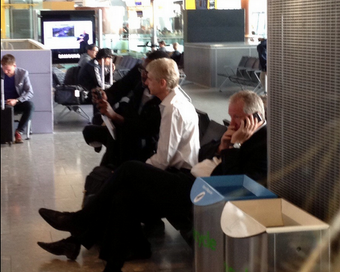 Arsene is back. Back with a vengeance. Back with stubbornness. Back with the 1998 rule book. Back with an old strategy and a tactical execution plan he forgot to share.
Arsene blew the window once again. He didn't just blow it, he flipped it the bird whilst riding around Trafalgar Square on a unicycle in a Christmas Party hat. His decision to take a trip to charity football match on the most important day of the window was quite unbelievable even for a man who spent most of the summer months posing for pictures in his speedos. Firstly, when you're a man as wealthy as he is, you don't piss around with Easyjet flights and hang around in the departure lounge at the busiest airport in he world. It's f*cking stupid. Pay for private checkin, ask Stan for his Netjets card. Borrow Usmanov's private jet.
Secondly, even if you are planning on doing fuck all… like a PM during a homeland crisis… you don't take a holiday regardless of connectivity. It's disrespectful, it's public and you literally can't get a reception in most grounds.
Onto the window. What a disaster. It all started so well. Loads of intent. Loads of new players. Then it all stopped. He couldn't push it over the line. In doing so, he killed our title hopes this year. We recruited the least players in the league. Not always the most important stat, but it is when you consider we're always let down by a shallow squad and actually, we didn't really move squad wise. 19 year old Chambers replaced our captain… leaving us with 6 defenders at the club… which for me, is verging on gross misconduct.
Debuchy replaced Sagna. Ospina replaced Fabianski. Sanchez was probably the only upgrade. Danny Welbeck dropped into the fold late yesterday. The madness of that move when you consider the talent that has flown us by this window is crazy.
Here are my Topline thoughts after watching yesterday unfold:
Arsenal can't afford Falcao
Watching the Arsenal media supporting the inaction of the club has been embarrassing. Falcao is one of the best strikers in the world. He's moved to United for £16m for a year. A United is disarray. With no Champions League football. We're then handed their reject who couldn't get a gig centrally. Someone mentioned online that United replaced Robin Van Persie before we did… very true. We could afford Falcao's wages. It wasn't an ideal punt, but the sort of punt that kicks you into title contending contention. The sort of punt you take when you're planning process is so poor you have no other choice.
I also saw some media say Arsenal fans would be jumping for joy if we'd signed Welbeck and Sanchez the other way round. Really odd thing to say, it has no relevance to anything that arsenal fans get excited about great players. The other interesting line was that Arsene elected to move for Welbeck to support his 'English core' strategy. I mean, come on, we've gone. From a manager who doesn't look at passports to one that sacrifices quality for a bit of English grit. What makes this route even worse is that England aren't exactly smashing the international scene. Anyway, people thinking Welbeck was the plan all along… have a word. 26 goals since 2008, the long term striking plan?
Danny Welbeck
Ok, so firstly, once you got over your… WHAT THE HELL moment, Danny Welbeck is a massive upgrade on what we currently have in the side. He's tall, he's much faster than Giroud and he has a lot of raw talent. What he doesn't have is a great first touch or a goal scoring record of note. I think he has 26 since 2008. I actually don't mind him, in fact, I've said before that I think he's a good player. I'm not totally flatlined by him.
What I am disappointed with is the amount of talent we let fly us by. Falcao, Lukaku, Manzukic, Mario, Costa… all players who would have improved us. I mean, even when you drop down a level, Demba Ba and Loic Remy would most likely have improved us more than Welbeck. But, it is what it is and he could flourish playing in a central position for us over the next 3 months. Another argument I'd also have over Danny W or Welbz as he's know on the internetz is this… is he any better than Joel Campbell?
Speed
United find out Robin Van Persie is fucked, they replace him instantly. Chelsea sell Torres and bring in Remy the next day. We find out Giroud is injured last Monday and do nothing until yesterday. It's so slow. Zero urgency. Zero plan.
Deadline day
Here's the big issue with deadline day. It's exciting, Valentines day for blokes. A chance to go out and act like a dick on TV if you're a kid. It's simply the best thing Sky ever invented. However, for me, it's for bargain hunting clubs or it's for clubs that haven't planned their summer properly. Deadline day is for the ingrates. Deadline day purchases show your planning process is inept. It shows you lack professionalism. It's for the scuzzy clubs like QPR who are scrabbling around for anything they can get their hands on.
Simply put, Arsenal should be bigger than deadline day.
Sporting Director
How many more transfer windows are we going to have to suffer before someone at the club says, look, this is a shit show and we don't have a squad good enough to win anything of note… so here is your new Director of Football.
Barcelona operate that model, Chelsea have a new guy in who has been working wonders on their transfer business (Gourlay and Emiliano), Madrid have football layered all through their management. It makes no sense to continue to allow Wenger the control he currently has.
It's two years on from selling Robin Van Persie and Alex Song and we still haven't replaced either. We have 6 defenders at the club. We sold our captain without replacing him. We allowed Sanogo near our first team.
There is no one with enough expertise or balls at the club to act as a filter to some of the baffling decisions Arsene Wenger has been making. As disrespectful as this sounds, he looks like a tired old man without a clue at the moment. No direction, no plan and no idea how to execute whatever he has in his head. It's embarrassing and  it's unforgivable. This club isn't a charity. We're a business. If the business is failing because of a dated manager, the club should work to support him with something better. Force a Sporting Director on him. If he kicks out, tell him he can leave and we'll  bring someone in who can work in a structure that makes total sense in modern football.
This idea that we should wait to fail rather than do everything we can in our power to avoid the inevitable is so counter productive and arrogant.
The power of Wenger has led us to another dismal window. The frustration for Arsenal fans is the only way the problem leaves is if he decides he wants to go or things get so bad he ups sticks on his own.
… and look, things could get quite bad if we don't come back energised from international break. We have City then Spurs up next.
So all in all, another disappointing window. So much promise dashed inexplicably as an £8m a year manager decided he didn't need a defensive midfielder, he didn't need a world class striker and he didn't need someone older than 19 to sit at centre back cover.
Baffling, not surprising. Arsenal like to put themselves up as a paragon of best practice for business, but ultimately, they're one of the worst run elite clubs on the sporting side. We'll never crack the Premier League or Europe until the dictator is usurped… roll on three years, because this is boring and we can sadly see where it's heading.